16 sermons from Philippians are a collection of preaching sermons. These sermons are full manuscript sermons which cover the whole book of Philippians verse by verse.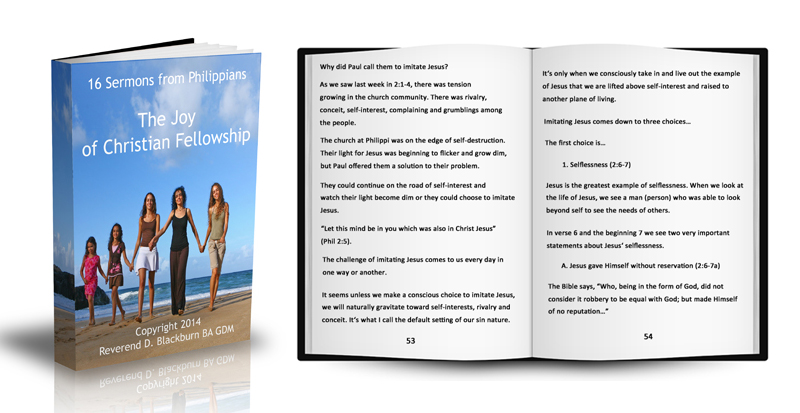 If you have been preaching for some time, you will know that it takes many years of education and experience to write preaching sermons that teach God's word to God's people.
These sermons from Philippians are set out in a logical and sequential format with an introduction, sermon body and conclusion.
You can purchase these 16 Sermons From Philippians by clicking on SERMONS FROM PHILIPPIANS.
16 Sermons From Philippians
Here is a snippet from Philippians 2:6ff!
Why did Paul call them to imitate Jesus?
As we saw last week in 2:1-4, there was tension growing in the church community. There was rivalry, conceit, self-interest, complaining and grumblings among the people.
The church at Philippi was on the edge of self-destruction. Their light for Jesus was beginning to flicker and grown dim; however, Paul offered them a solution to their problem.
They could continue on the road of self-interest and watch their light become dim or they could choose to imitate Jesus. "Let this mind be in you which was also in Christ Jesus" (Philippians 2:5).
The challenge of imitating Jesus comes to us every day in one way or another. It seems unless we make a conscious choice to imitate Jesus, we will naturally gravitate toward self-interests, rivalry and conceit. It's what I call the default setting of our sin nature.
It's only when we consciously take in and live out the example of Jesus that we are lifted above self-interest and raised to another plane of living.
Imitating Jesus comes down to three choices.
The first choice involves selflessness (Philippians 2:6-7).
Jesus is the greatest example of selflessness. When we look at the life of Jesus, we see a man (person) who was able to look beyond self to see the needs of others.
In verse six (6) and the beginning of verse seven (7) we see two very important statements about Jesus' selflessness.
First, he gave himself without reservation (Philippians 2:6-7a). The Bible says, "Who, being in the form of God, did not consider it robbery to be equal with God; but made himself of not reputation…"
140 Pages of Preaching Sermons
The Book of Philippians is all about Living the Christian Life to the Glory of God and therefore most of the topics in Philippians relate to the Christian life.
Some Sermon Topics From Philippians
The Changed Life (Philippians 1:19-26)
The Harmonious Life (Philippians 2:1-4)
The Caring Life (Philippians 2:19-24)
The Triumphant Life (Philippians 3:1-3)
The Contented Life (Philippians 4:10-23)
Some Important Scriptural Verses From Philippians
"Being confident of this very thing, that he who has begun a good work in you will complete it until the day of Jesus Christ" (Philippians 1:6 NKJV).
"For to me, to live is Christ, and to die is gain" (Philippians 1:21 NKJV).
"Let this mind be in you which was also in Christ Jesus" (Philippians 2:5 NKJV).
"That I may know Him and the power of His resurrection, and the fellowship of His sufferings, being conformed to His death" (Philippians 3:10 NKJV).
"I can do all things through Christ who strengthen me" (Philippians 4:13 NKJV).
"And my God shall supply all your need according to his riches in glory by Christ Jesus" (Philippians 4:19 NKJV).
These are just some of the great verses in the Book of Philippians. 16 Sermons from Philippians will cover these verses in depth. Click on the following link to purchase 16 Sermons from Philippians.